Friday Fill-ins #1
Because it's Friday and I'm feeling like the entire week's pressure and stress has landed on my body all in one day I've decided to take it easy on myself. Therefore, instead of trying to scrub out the last dredges of brain matter to find some good content for you to read, I've found this new (new to me) meme to play along with. Â The way this seems to work (being it's my first time I'm guessing here) we are asked questions with a portion of the question blank for us to fill in. Pretty simple… I'm hoping! All my answers are underlined and in red. I hope you enjoy reading them as much as I've enjoyed answering them!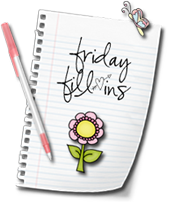 1. I keep telling myself that running out of Fruit Loops when your on your period is not the end of the world.
2. Sitting here, listening to the sound of rain falling, IÂ am thinking of checking myself into the loony bin since if it's raining here it's all a figment of my imagination and I really need to be examined. Â That or the acid I dropped is starting to kick in. Â Hmm, I'd better go look out side to see if the rain is purple.
3. Breakfast, minus little sticky fingers in my cereal bowl, tastes so good!
4. Sometimes, putting others first, while most always a good thing to do, can also be bad when your tennis rating is being effected. Â Then its time to leave everyone in the dust.
5. My child's beauty is breathtaking, really.
6. Well, maybe there is a purpose for the duck billed platypus, but I haven't seen one. OR, maybe the purpose is only to make you wonder, what is the purpose of the duck billed platypus?
7. And as for the weekend, tonight I'm looking forward to gettin' my game on and kicking some tennis butt, tomorrow my plans include icing my body and recovering from gettin' my game on and kicking some tennis butt and Sunday, I want to try not to complain so much about my aches and pains after having to ice my body and recover from gettin' my game on and kicking some tennis butt!
For more Friday Fill-Ins fun go
HERE
and check out the comment section.
Posted: July 24th, 2009 under Friday Fill-ins.
Tags: blog, Friday Fill-ins, mommy, mommy blog, mommys joy
Comments